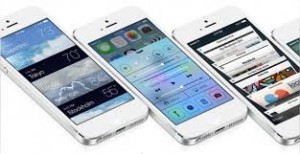 Main weakness of Apple is hiring the wrong persons. They did that before in 80′s and to be continued.
iOS7 is a good OS, but it's not Apple. They got the market because their iDevices was capable of handling tens of graphic layers over each other creating a mind blending interface packed with unique features. Now in iOS7:
Average users don't care about dynamics in main interface of iOS, moving a screen because I said so is just similar to move it because there is another screen beside or gravity makes them move. That's a huge technological difference, but just for developers, not public.
Average users like to have some contrast in screen. Sure a simple design is much more elegant, but you can't capture eyes of users with just text. It's like a woman with or without makeup!
In their opinion, new design is based on contents with large fonts and less graphics (no lines, shadows, etc). That's good for pages inside a book, not the cover. I shown screenshots of native Calendar App on iOS6 and iOS7 to about 50 people including Android fans, only one of them said iOS7 is a better design.
And finally, everybody including Android and Win8 can make something like iOS7, but only apple can (could) create a remarkable operating system like iOS6 and run it on a small device at fantastic speed.
If you have time, watch http://www.youtube.com/watch?v=m8mttU82V64, specially from 47:30 to end. You will get the idea what will happen to a company when marketing department get in charge of design!
Hopefully they turn back before iOS7 concept gets into OSX.